BIOSUN EAR CANDLES

BIOSUN Ear Candles are used by more and more people around the world.
The reason being that BIOSUN Ear Candles are internationally recognised as being one of the finest quality ear candles available incorporating the highest safety standards. For example, the red line (maximum burn) marking around the candle and a specially developed safety filter ensure simple and safe use.
BIOSUN Ear Candles are regularly checked and tested by independent organisations.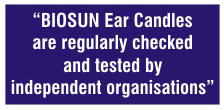 They are the only ear candles that are certified medical products class lla according to medical device directive 93/42/EEC. It is important for practitioners of this therapy to understand the differences in CE labels. Other makes of ear candles do carry a CE label, but they are not of the same standard or classification as BIOSUN Ear Candles.
BIOSUN Ear Candles are the only ear candles in Europe to have a medical device classification, which requires a much higher level of safety standards. In order to have the CE level lla classification BIOSUN has to adhere to a very strict quality control procedure during the manufacturing process.
There are many other makes of ear candles on the market today,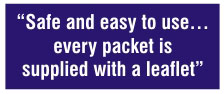 but none that carry such high standards of quality and safety as do BIOSUN Ear Candles. They are safe and easy to use… and every packet is supplied with a leaflet showing how they work and how to safely use them.
When you choose BIOSUN Ear Candles you know you are choosing the best that money can buy!